Penname:
MonkeyAbu [
Contact
]
Real name:
Ashley
Member Since:
10/03/05
Membership status:
Member
Bio:
*~*UPDATED*~*: December 16, 2007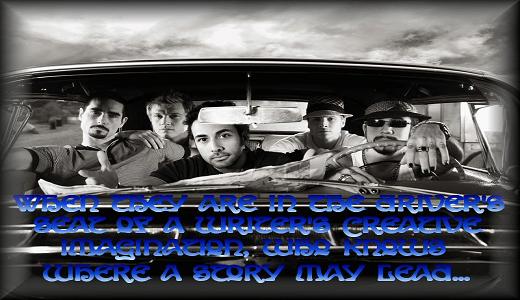 *~*IMPORTANT NOTICE*~*
After a lot of careful consideration, I have come to a conclusion on what I am going to do when it comes to some of the stories I have posted on here that I have seemed to have just left hanging in the realm of "hiatus". As of right now, I have no intentions of working on them to produce an update, so I have decided to take them down. This does not mean that I will never come back to them sometime in the future. Right now I feel I need to focus my attention on the stories I feel most strongly about and unfortunately that is only a few of them. Listed below are the stories (along with their summaries) I have decided to remove for the time being. Please note that they might not be gone forever, but for now they are only wasting space in my profile.
---
"A Life Less Ordinary"
Summary: Down to his wits end, Kevin finds himself questioning whether he has chosen the right path in life. His career wasn't what he hoped it would be, his marraige was failing right before his eyes, and he couldn't have felt more like a failure as a father. Then one day Alexander James McLean walked through the door of his class room. Together, teacher and student realize to get through life's ups and downs and win the hand the cards have dealt, they must learn from one another, because life isn't always what it seems. Sometimes it takes a life less ordinary to realize it.
Categories: Fanfiction > Backstreet Boys
Characters: AJ, Kevin
Genres: Alternate Universe, Drama, Angst
Chapters: 1
---
"As Beautiful As You"
Summary: AJ finds himself spiraling down a path of total self-destruction, wandering lost in a world of pain and chaos that only he himself created. Struggling to break free from the bonds of his own personal demons to reach the surface and finally breathe, he meets what he realizes could be his salvation; the missing piece to his broken puzzle that he hates to call life. [*Previously posted under my old SN: SweetAngelicAngel* ~Minor revisions~]
Categories: Fanfiction > Backstreet Boys
Characters: AJ, Group, Other
Genres: Angst, Drama, Romance
Chapters: 33
---
"Father Figure"
Summary: All it takes to tear your life apart and turn your world upside down is to experience tragedy. A soul shattering tragedy crashes head first into fifteen year old Samantha Taylor's life, leaving her broken in the most emotional extreme. She suddenly finds her self on a path to self discovery and a search for the man she was led to believe no longer existed, the man who had disappeared from her life before she was born...her father.
Catergories: Fanfiction > Backstreet Boys
Characters: Howie, Group, Other
Genre: Angst, Drama
Chapters: 2
---
"If You're Reading This"
Summary: He's one of the brave ones who went to fight on behalf of our country, to help fight for those who seemed to be more in need. He left a wife, a child, and an unborn baby at home because he cared and he had faith. Only he never realized the price he might have to pay... (Short multiple chapter story based on the song "If You're Reading This..." by Tim McGraw)
Categories: Fanfiction > Backstreet Boys
Characters: Brian
Genre: Action, Alternate Universe, Angst, Drama
Chapters: 2
---
*~*ON A SIDE NOTE:*~*
I am focusing mainly on "If Tomorrow Never Comes". I have a few new ideas swimming around in my head, but I probably won't be developing them for a while. If any of you still want to read any of what I have written so far of the forementioned, just let me know and I will be glad to send it to you via email. Also, I am looking to cowrite. If anyone is interested, please let me know!
[
Report This
]
Error!We encountered an error. Please go back and try again.