Penname:
Ruby Maye [
Contact
]
Real name:
Misha Abalde
Member Since:
10/04/07
Membership status:
Member
Bio:
My name is Melissa but everyone knows me as "Misha". My penname comes from my middle name which is "Rubelle" and my cousins used to call me "Maye" for fun :)
I love to sing and write, but I haven't written any songs of my own. I can also play a little bit of piano but i'm not a virtuoso or master pianist LOL. I enjoy writing in my spare time and I have been writing fan fiction for a while (probably since i've been a BSB fan). I'm so glad I found this place to share my stories with other BSB fans. I usually just write them in a private journal and read it for myself but I'm glad I have the opportunity to share it with others and get reviews on it :D
I love listening to music (via my iPod), watching movies, and playing the Nintendo Wii or any other videogame console i'm a gamer hee hee. I listen to pop, R&B, rock, some hip hop and a little bit of everything. I love action and comedy movies the most, and I usually pick an action flick over a chick flick :P but i hate horror movies.  
I've been a BSB fan for 12 years now (and counting :D) and my favorite Backstreet Boy is Nick :p but i also like the other guys (which include Kevin :)). I have only been to a few concerts and have never met them in person.
[
Report This
]
Stories by Ruby Maye
Summary:
APO has been assigned to protect the Backstreet Boys after a multimillionaire embedded a weapon's software within their new album. Unbeknownst to the Boys, one of the APO agents is working undercover as an intern at the Boys' management and is Nick's new girlfriend. Mia Blade begins to struggle with her double life and is forced to choose between love and duty. Can she find the strength to keep her two lives separate, or will she have to give up one to keep the other?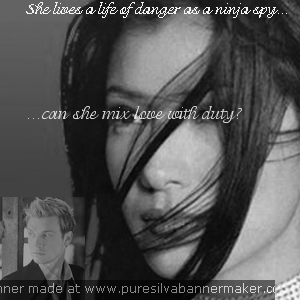 Categories:
Original Fiction
,
Fanfiction
>
Backstreet Boys
Characters:
Group
,
Nick
Genres:
Action
,
Drama
,
Suspense
Warnings:
Violence
Series:
Authorized Personnel Only Agency Files
Chapters:
14
Table of Contents
Completed:
No
Word count:
21074
Read Count:
3277
Summary:
After the death of his father Monty Valencio, the youngest of the Valencios, Nico, is convinced that his family's rivals, the Berlacchis were responsible for the murder, despite Nico's own family believing it was suicide that killed Monty. Nico tries to solve his father's murder, but he begins to fall in love with Mariana Berlacchi. They are caught in forbidden love and a great feud between their families. Will Nico and Mariana's love bind the long-time feud of their families? Were the Berlacchis responsible for Monty Valencio's death?
Categories:
Fanfiction
>
Backstreet Boys
,
Fanfiction
>
Music
>
NSYNC
Characters:
AJ
,
Brian
,
Group
,
Howie
,
JC
,
Joey
,
Justin
,
Kevin
,
Nick
,
Other
Genres:
Action
,
Alternate Universe
,
Drama
,
Romance
,
Suspense
Warnings:
Death
,
Violence
Series:
None
Chapters:
3
Table of Contents
Completed:
No
Word count:
4826
Read Count:
817
Summary:
Santa is down with the flu! With the help of Mrs. Claus and Winks the Elf, they go in search of someone to help deliver the toys to the children on Christmas Eve.
*Response to the December challenge*
Categories:
Fanfiction
>
Backstreet Boys
Characters:
Brian
Genres:
None
Warnings:
None
Series:
None
Chapters:
1
Table of Contents
Completed:
Yes
Word count:
2754
Read Count:
227
Summary:
The Boys' tour bus breaks down in the middle of the night leaving them stranded in the middle of nowhere. They find a deserted place to stay for the night. Weird things start happening to them. They get the feeling that they have seen this before, and that something was oddly familiar about their situation…
Categories:
Fanfiction
>
Backstreet Boys
Characters:
Group
Genres:
Adventure
,
Horror
,
Humor
,
Supernatural
,
Suspense
Warnings:
None
Series:
None
Chapters:
8
Table of Contents
Completed:
Yes
Word count:
8692
Read Count:
3313